(MySQL 5.1.51 Page 3 of 8)
Selecting MySQL Program Features to Install:
Our next image shows the default custom selection available in the full .msi installer. Developers would install the Developer Components. Many will not need to concern themselves with these items at this stage and select next and move to the next window.
If you would like to locate the files to a different folder, do so by selecting change.
Note: In earlier releases of this software and for many years, the default install path was C:\mysql. this is now changed to C:\Program Files\MySQL\MySQL Server 5.1\. If using Windows 7 or Windows Server 2008, C:\ProgramData\Mysql is also used to hold certain data such as .ini files. XP users can expect to find extra files also stored in the appropriate documents and settings folder.
Selecting which MySQL 5.1 Features to Install on your Hard Drive
(Fig. 04)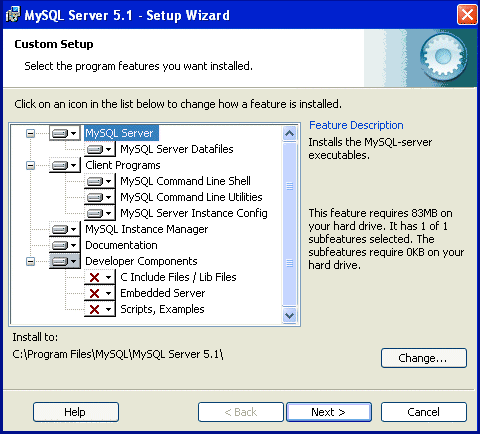 The full .msi installer shows the extra Developer Components (see Fig. 04) when in custom setup. The MySQL recommended Community Generally Available Essentials version omits these items as many will have no use for them at this time and they are not essential to run MySQL 5.1.
Select next to finalize your selection for install to the hard drive.
Install MySQL 5.1 to your Hard Drive:
We are now ready to install MySql 5.1 server to the hard drive. Select install and the files will be copied onto your hard drive. This may take a few minutes.
Beginning the MySQL 5.1 Installation
(Fig. 05)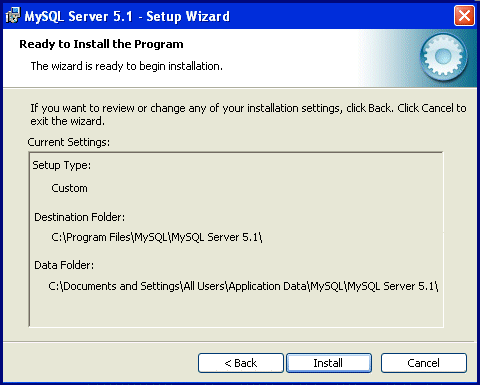 Click install and the wizard starts to write the requested program files to your computer. This concludes the first part of the setup process. It might take a minute or two, depending on your system speed. Should be enough time to grab a coffee...
MySQL Enterprise & Support Software:
When the files are installed, you will get two screens giving you some basic information on other MySQL products. Next advances to the next window.
Information screens on other MySQL Solutions
(Fig. 06 & 07)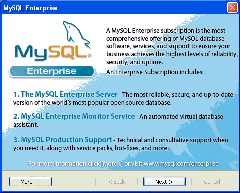 Oracle's MySQL flagship products are displayed over a couple of pages. The Monitor Service sounds particularly interesting. When done, select next until you see the next Wizard Completed window (Fig. 08).
Starting the MySQL 5.1 Server Configuration:
After all the files have been installed to your Harddrive, you have the option to either configure your MySql Server 5.1 now or configure the server at a later time.
You can call the Server Instance Config Wizard at any time through the soon to be created MySql program files group which can be accessed via the start button. In this situation, your first window will be Fig. 09, not Fig. 08. This is useful if you want to change any of the options as you go.
Decide whether to configure the MySQL Server now and select finish to complete the first part of MySQL installation procedure.
Finish the Software Installation and Begin the MySQL 5.1 Server Setup
(Fig. 08)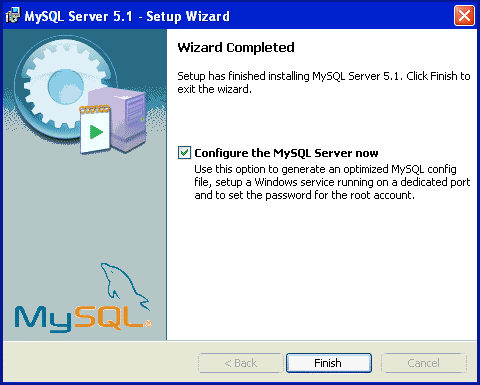 Most will configure the server now. Select finish to complete the file installation part of this install and begin part two, and configure your Windows Server Instance for MySQL 5.1