Website Administrator Website Courses
Online Academy Study Courses
Self paced online academy study courses.
Microsoft, Adobe and Macromedia are just some of the software skills you can gain by joining this online study academy. Study the courses, get the certification. For your self or you friends or staff.
Browse through the range available and you will agree this is great value. Get started today.
How to Sign up now for all these on-line courses with one payment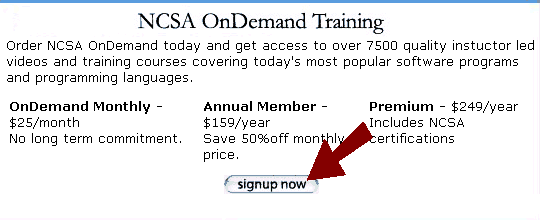 Click the signup now button to setup your user account. Note the annual member deal.
Hint: Firefox users can press the " / " key to quickly search this page.
Web-Based Microsoft, Office, Adobe and more Training Courses
Free exams!
Testing services for employers or for educators.
An ideal Web based online computer training solutiuon that is dedicated to providing quality computer certification and training products to everyone from beginning computer users to dedicated IT professionals. Great pricing. Mutli-user available for large organizations. Gain access to all these courses now!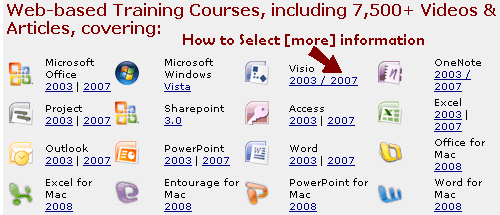 A sample selection of some of the couses on offer.
Microsoft Office Training Course 2003, 2007 & Mac 2008
Get instruction on each component of Microsoft Office 2003 - 2007 suite including Excel, Word, PowerPoint, Outlook and Access. Also available are specialty courses on each individual Microsoft Office component. All courses are designed to assit Office users of all levels of ability from beginner through to advanced. Walk through the individual courses or the full course at your own pace and discover many time-saving methods to help you gain control and mastery of Microsoft Office programs. Great for training staff in these popular programs [more...]
Microsoft Visio 2003 & 2007 Training Course
Microsoft Office Visio training course for Office Visio, 2003 and 2007 versions. Explore communication through diagrams. Learn how to customize organizational views. Extend the Office Visio program to meet your business requirements [more...]
Microsoft OneNote Training Course 2003 & 2007
Two levels of instruction to help walk you through performing many time-saving tasks in OneNote. Includes examples of how to keep all aspects of your life organized. Beginner through advanced, and learn everything needed to create custom notebooks and pages to store your work on a daily basis [more...]
Microsoft Project Training Course 2003 & 2007
A vital course for all that need to plan, track, and communicate effectively for any type of project. Whether you are a manager, planner, or coordinator, this course will assist you. Learn to use Microsoft Project effectively and gain success using this application. This course provides you with powerful tools and techniques to better manage your projects [more...]
Microsoft Access Training Course 2003 & 2007
Learn how to work in-depth with many of the Access database objects including Tables, Forms, Queries and Reports with the numerous included courses. Find, sort, and filter data. Set up a table for optimum data entry through the use of Input Masks, Validation Rules and Help Text [more...]
Microsoft Excel Training Course 2003, 2007 & Mac 2008
Learn everything from creating stylish professional charts to data sharing with enhanced security. Manage or create your spreadsheets more effectively. Learn how to master the worksheet layout and the formatting. Many additional lessons on advanced functions [more...]
Microsoft Outlook Training Course 2003, 2007 & Mac 2008 Entourage
Here you will learn Outlook as a total daily organizer and communication tool. From e-mail to planning/scheduling features and customizing the interface, this course will empower you [more...]
Microsoft Powerpoint Training Course 2003, 2007 & Mac 2008
Quick tips and detailed instruction will increase your ability to masterfully use PowerPoint as an effective presentation tool.Create new presentations with ease. Includes PowerPoint's Design Templates and the Auto Content Wizard [more...]
Microsoft Word Training Course 2003, 2007 & Mac 2008
Create professional and stylish documents or perform advanced Mail Merge functions. Work with your documents more effectively as you learn to master the popular Word processing program [more...]
Microsoft Windows Vista Training Course
Learn Vista beginning with basic system customization settings, from Taskbar modifications, to advanced system options such as connecting to a network for you and your network printer. Over 80 Vista lessons designed to increase your productivity with the Vista operating system [more...]
Adobe Acrobat 8 Professional
Essential Acrobat 8 skills. Create PDF files, work with existing files, how to use bookmarks are just some of the topics covered in the beginner level course. More advanced levels introduce you to customization skills that will assist in PDF document creation and security. New to Acrobat or as a seasoned user, this Acrobat 8 training course have you presenting your PDF creations with mastery [more...]
Flash 8 Actionscript 2 Training Course
The Flash 8 ActionScript 2.0 Training Course is designed to extend your existing Flash 8 knowledge of basic Flash concepts like symbols, instances and key frames. Learn how to add a further level of interactivity to your work with this introduction to the Flash 8 ActionScript programming environment [more...]
Flash 8 For Designer
For the Flash 8 beginner or intermediate level Web Designer seeking to add power into creating interactive digital content for the internet. This course covers all of the objectives of Macromedia's Flash 8 Designer Certification exam. With this course and a little extra study, you'll be able to take and pass the test and become Flash 8 certified [more...]
Adobe Photoshop CS2 Essentials
Not only for first time Photoshop users, this course also delves into the advanced features and sections of the Photoshop CS2 and the needed knowledge to get your creative graphic juices going [more...]
Microsoft Ado Net 20 Training Course
A course designed to give development professionals an introduction into working with Microsoft ADO.NET [more...]
Microsoft Asp Net 2 For Visual Basic 2005 Training Course
ASP.NET 2.0 for Visual Basic 2005 gives you more knowledge over other programmers. Thoroughly understand ASP.NET 2.0 for Visual Basic 2005. Begins with focus on Visual Basic 2005 first [more...]
Microsoft Visual C Sharp 2005 Training Course
Learn C# Compiler and .NET Class Library [more...]
Microsoft Exchange Server 2003 Mcse Exam 70 284 Certification Training
Learn installation of Exchange Server 2003, how to successfully manage security and monitor Exchange Server 2003. All that is needed for 70-284 [more...]
Microsoft Frontpage 2003 Training Course
Learn the basics of web page development with FrontPage 2003. Gain information on how to plan and structure your web site. Gain an overview of the FrontPage screen layout. Be able to customize a personal website and save your FrontPage work pages. Understand how to work with pages with frames, and more [more...]
Crystal Reports Xi Training Course
Get empowered by learning everything you need to know to fully utilize the features of Crystals reports, both new and old [more...]
Mindmanager
Find How to Map, the basic of MindManager Pro 7. This course also teaches how to use MindManager for the Creation and Use of Dashboards, Planning & Running Meetings, Developing Effective Communications and Planning & Managing Projects. Then learn how to extending Microsoft Office with MindManager [more...]
Mindjet Mindmanager Pro 7 With Microsoft Project 2007 Training Course
Capture project scope using MindManager to brainstorm success factors with key stakeholders and apply visual mapping techniques to help create project plans. See how to organize details of project information and apply dynamic scheduling techniques. Learn project information sharing and to communicate status. Shows many ways these tools work in your daily project management routine [more...]
Whats New In Microsoft Office 2007 Training Course
Detailed course covers the new features of Microsoft Office 2007. Through all changes made to the entire Office Suite: Word, Excel, Access, PowerPoint, and Outlook [more...]
Php 5 Programming Training Course
PHP Programming Training Course provides development professionals with the skills necessary in using the PHP programming language to write full-featured, interactive web applications. In this course, you'll learn the fundamentals of the PHP language, the basic syntax and capabilities of PHP, and how to embed PHP code into HTML documents [more...]
Quickbooks Pro 2006 Training Course
Gain knowledge in this QuickBooks 2006 Essentials course broken down into four levels covered in short topics. Level One to set up your QuickBooks company file, with many common tasks including invoicing and reporting. Level Two for Accounts Payable and Receivable functions and includes customizing QuickBooks 2006 to better suit your business. Level Three for enhanced QuickBooks features and Level four for managing inventory as well as QuickBooks payroll features [more...]
Microsoft Windows Sharepoint 3.0 End User (Administrator) (Contributor) (Reader) Training Course
The SharePoint End User Complete training course is three separate courses rolled into one: Administrator, Contributor, and Reader. Learn SharePoint basics including customization options, administrative skills for management, navigation tactics, working with lists, creating surveys and discussions, etc. This SharePoint course is for new and seasoned users. The SharePoint End User is a complete training course to equip you with the needed knowledge to effectively use SharePoint on a daily basis [more...]
Microsoft Windows Small Business Server 2003 (Exam 70 282) Certification Training
The Windows Small Business Server 2003 training product will take professionals through the introductory levels that help develop an understanding of the Windows Server 2003 family and create possibilities to business owners in need of solid, powerful, and user-friendly functionality. This comprehensive course will ensure your success with the application and provide you with powerful tools to become a Small Business Specialist and user of Windows Small Business Server 2003 [more...]
Microsoft Sql Server 2005 Implementation Maintenance Certification Training
This SQL Server 2005 Implementation and Maintenance (Exam 70-431) course provides database and business intelligence developers as well as system administrators with an in-depth look at implementing and maintaining SQL Server 2005. Throughout this course, your instructor, Anil Desai, will first walk through each course topic from a conceptual standpoint. Then, you'll experience a live, video walkthrough as Anil helps you visualize what's involved in implementing and managing the many different components of this complex relational database platform.In other words, this course contains all of the information you need to set up and manage SQL Server 2005 in a production environment and pass the Microsoft Technical Specialist (TS) exam, Exam 70-431: Microsoft SQL Server 2005 Implementation and Maintenance. There are over 120 lessons across 8 levels in this course and all designed to help you prepare for Exam 70-431 [more...]
Microsoft Visual Basic 2005 Training Course
This course provides an introduction to the Visual Basic 2005 language. You'll cover the basics of the language that include such areas as object-oriented programming and working with databases. This course will provide you with enough of a basis so you'll be ready to tackle a variety of scenarios that may come up in your development work. With Visual Basic 2005 you'll be able to build a variety of applications including Windows applications, web applications, web services, console applications, and more. All of these types of applications are available to Visual Basic 2005 because it creates applications to run right on the .NET framework. VB 2005 may have dropped the term "dot net" from it's name, but it continues to create applications that take advantage of the powerful features of the .NET framework [more...]
Microsoft Windows Server 2003 (Mcse Core Four Exams) Training Course Bundle
Designed in collaboration with one of the leading technical publishers and certification test prep providers, bundled and complete certification exam coverage that features a unique integration of ebooks, instructor-led training, and web-based exam simulation and remediation. Microsoft Windows Server 2003 MCSE Core Four training product gives the user 100% coverage of official exam objectives and realistic test preparation with practice exams that provide users with authentic interactive exam-simulation software that grades their results. For new IT Admins seeking to become a Microsoft Certified Systems Engineer (MCSE) for the first time, KeyStone offers the "Core Four" course set. Learn all necessary components of Windows Server 2003 to pass the MCSE Exams (70-290, 70-291, 70-293, 70-294). Windows Server 2003 to pass the MCSE Exams (70-290, 70-291, 70-293, 70-294) [more...]
Be prosperous!