Sign Up For Your Free StatCounter
Register to get started with your own Web Site StatCounter
Brief introduction to server-side statistic collation
On this page you will learn how easy it is to sign up and register your free StatCounter counter for use on your website.
Let's either explore the StatCounter website, or use register and get your StatTracker now (you can also click the statcounter image on the right to launch their sign up page).
As you can see, the registration process is a straight forward affair and all done on one page with only a few lines of data requested of you. Accept the terms and click register. That's it.
Your email address and choice of password is what you will use to log on with in future visits.
This step completes your sign up process and you are now ready to create stat counters for what ever purpose you like. You will receive a confirmation email with your username and password. Make sure you save the information for future use.
Choose the features tab is you wish to see the statistics and visual aids available to you with this powerful SEO tool.
Online Password Security Note
A short note regarding the use of online passwords. We at WebsiteAdministrator.com.au recommend you never use a single generic online password. Download and use a trusted program like the free password safe which you can then use to create, remember and manage many different passwords or even groups of passwords.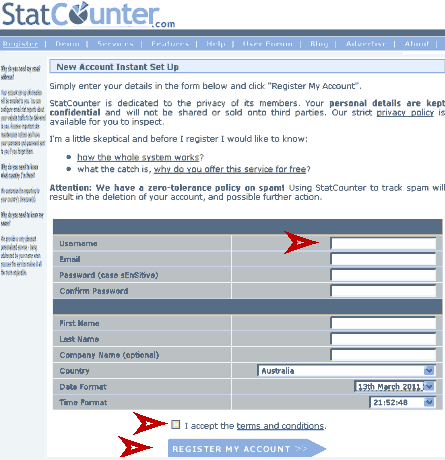 Our red arrows show the steps
input a username, your email and name/business name
After we have registered our product, we need to set up a project. We'll learn just what that means and how to do it on the next page.
StatCounter is a helpful administrator tool that has been in the making for many years and was created for from the work of one man. So don't forget to see what his sponsor's have on offer or to see if subscribing to StatCounter's advanced services are of use to you.