Reviewing StatCounter Statistics for SEO
The SEM's Playground
Interpreting Statistics (
If it worked, do it again. If it didn't, stop it.

)

When your website starts to attract a healthy array of hits, a plethora of visual and text based information (statistics) begin to become available to you. And where you have numbers, you have statistics.

There is no 100% definite foolproof understanding of how future statistics will play out. There are just trends and assumptions. Statistics are all about looking backward in time and then making an assumption that the past will have the answer to unlock the future. And this does often work.

Prior to the internet, I had the extended good fortune to have been involved in various business situations where statistical analysis was very much in vogue. There are other businesses which also have a heightened exposure to statistics. The Stock Market, Marketing Firms. In fact, many jobs that involve applying attempted think are so exposed. Advertising etc.

Sadly, it is not possible to wrap this subject into a page when many have filled encyclopedic sized tomes with combinations of emperical and guestimate answers. But i will give you this very important Professional Statistical Analysis rule regarding changes to your web site. I'll call it the No Homer's Rule: If it worked, do it again. If it didn't, stop it.


Examples of using StatCounter to evaluate our SEO efforts by Visit Length or by Country Map.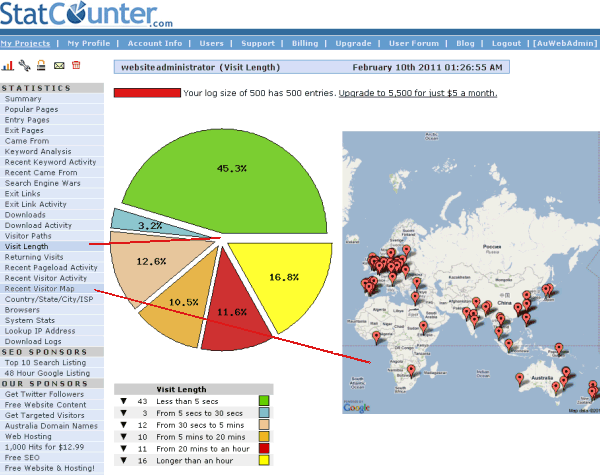 View data in your StatCounter account
After you select your project, you will find there is a lengthy menu on the left. Most of these are the statistics that have been gathered and are available for your evaluation.
On many of the pages you will find there are tips and common methods in which others view and interpret that information. Read the tips often so you become aquainted with their use.
Know your StatCounter Tool
Make sure you find some time to explore this tool and to make sense of what is being shown to you. It is this sort of information that Professional SEO's use to fine tune websites for maximum exposure and to rank above you. Your statistics are something you should review daily if you are serious about your website