Using the W3C Online HTML Validtaion Service
Validation improves and keeps your HTML skills current
So why is it we should use W3C validation exactly?
When using the W3C Online HTML Validtaion Service, the webmaster has the unique opportunity to improve his own coding skills. And it is not often you get to go back to school and learn something that is of intimate interest to you in such depth. So put on your student study hat on and enjoy the ride.
Be willing to understand any errors the validator presents to you as this will help to keep your HTML skills fresh and improve your understanding of any new changes to HTML rules. Google is on standby and very willing to guide you to the answers for any questions which may arise through out the validation process.
This is what any computer expert does. How do you think an expert remains expert or even became an expert in the first place? To keep your skills current for any length of time, you need access current knowledge. And the crew at W3 most certainly dedicate themselves to you for this exact purpose.
And so it is that the online html validation service that is provided by W3C will serve you well into the future. And there are other W3C tools which we will use later in the course. One in the next module in fact!
But let us focus on the task at hand and ensure our webpage is of an international standard. Let's get active and copy a real web page link from your web site and test the page for any W3 errors.
You can copy and paste any link to test any page. That's how easy testing is.
Let's now visit www.W3C.org's mark-up (HTML) validator and test one of your web pages now. We'll use Validate by URI.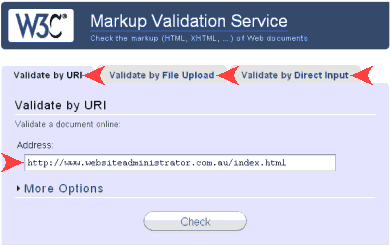 The W3C Online HTML Validtaion Tool gives a swift and simple Validation check for the SEO.
Fig. 01
You will note there is a "More Options" selection which also includes an HTML Tidy tool. You can use this instead of the Infohound's tool we used in the last module however, infohound does return a better looking page which is why we use that site.
After you have pasted your uri (url) into the address: field and have selected check, we can review your validation results.