Reviewing W3C Online HTML Validtaion Results
Working with the W3C Validator
A green banner means a validation pass
When your page is correct as per the rules of your doctype, you will have a green headed banner meaning that you that the validator has successfully checked your page with no found errors. Congratulations are in order as your webpage will now suit many browsers.
Those who want to contribute funds to the consortium can do so through the flatter donation system icon link.
You can also link to your page results with an official W3C buttton so that others can test your page and see for themselves that you can code 100% standard code too. The main points a student of seo should note with this tool are:
1) Be patient and try to understand any error presented to you.

2) If you can not make sense of the error, do some homework on the correct HTML usage. Education demands action.

3) You can use this tool to check your ability to code at a world class standard.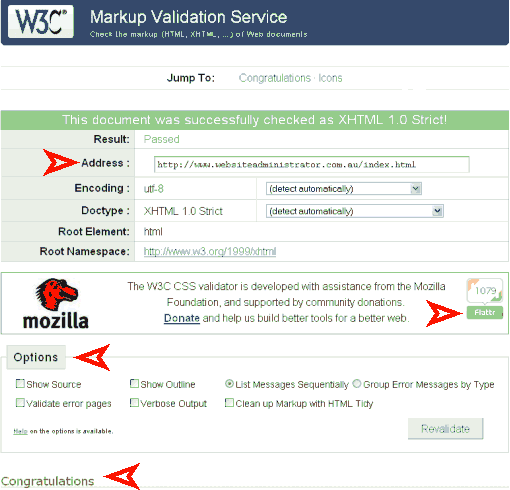 Correcting W3C validation errors is made simple for the SEO.
Some third party add-on code can make this step impossible for some. But there is no excuse for most small business or personal websites not to have close to perfect W3C pages. Google may ignore W3C errors for now, but those errors may be doors that could lead to bigger problems and you may find that your SERP ranking is dropped as a result. This validation step will breed confidence in your own HTML skills and will tell others that you care enough to ensure your work will display correctly in their web browser. If you do have any doubt on whether you should validate your web site pages, review the first page of this study module again.
At WebsiteAdministrator.com.au, we ensure our SEO customers have 100% valid html code where ever possible. We aim to deliver world class standard code while maintaining the vision of the website owner. You can contract us at any time to assist you too in achieving your expansion target.
And that concludes the fifth article in the series of our free learn DIY SEO (Do-It-Yourself Search-Engine-Optimization) online course. Now let's explore our CSS code and validate that if need be too.